Asbestos Locations Around The Home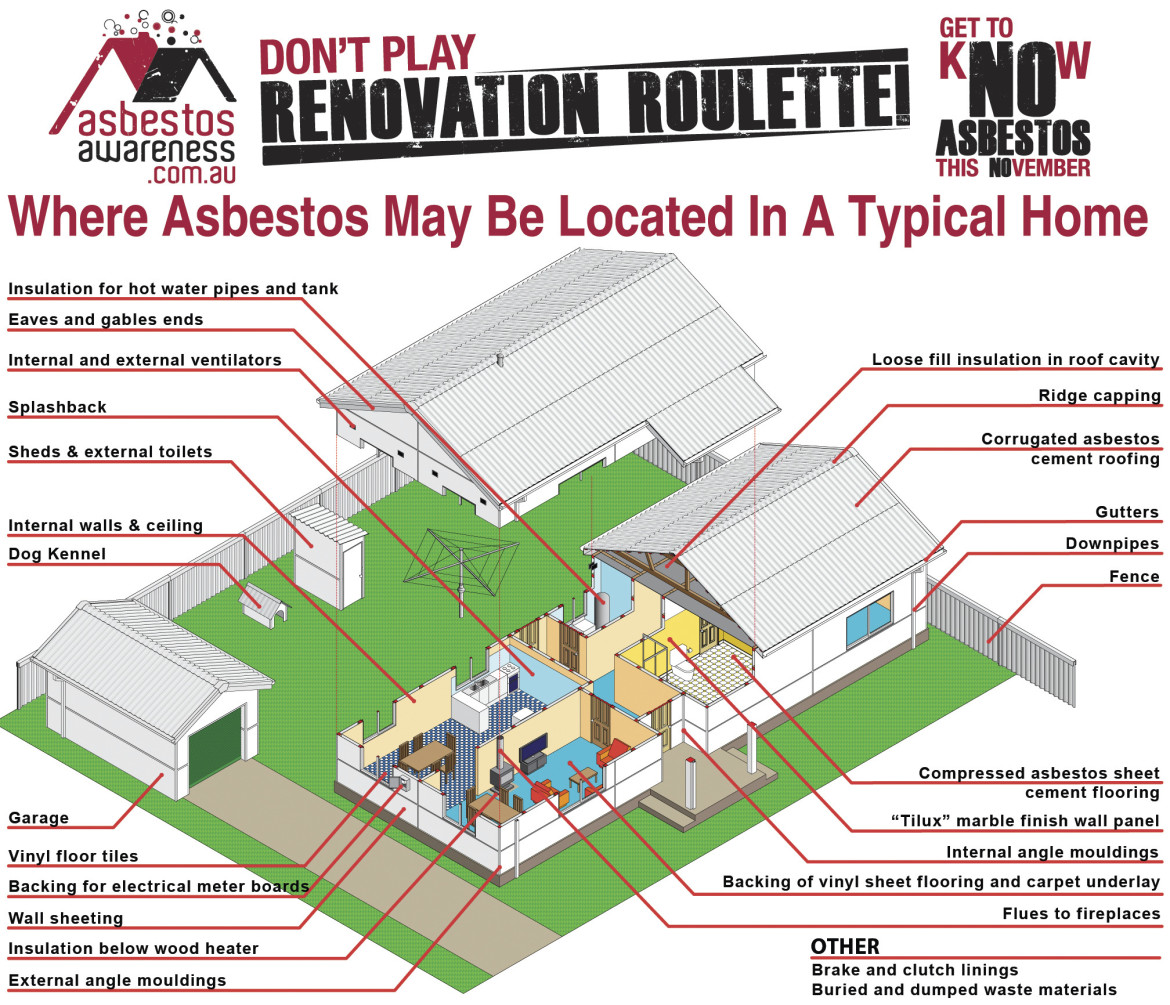 Asbestos Locations Around The Home
Asbestos is found all around the home. If your home was built before 1985 the Australian Government believes it is highly likely that Asbestos is present in the home.  The most common Asbestos locations around the home are:
ASBESTOS – EXTERIOR LOCATIONS
Fencing sometimes referred to as Super Six fencing
Roof sheets, again corrugated or sometimes called Super Six
Eaves – this is the space between the exterior wall and the underside of the roof, this sheet material, again because it was so durable
Exterior wall sheets – fibro homes are the most obvious
Sheds, garages, outbuildings like old external WC's and laundries or lean-tos are often made out of the asbestos wall and roof sheets
Dumped asbestos (discarded loose sheets and material are often hidden under homes or buried) on the property due to the cost of legally dumping asbestos
Electrical switchboard – the backing and insulation material was often made out of AC
Old dog houses and chicken coops – people would salvage old cement sheet material because it's so darn durable and makeup
Utilities and plumbing or pipework – if you have pits for utilities on your property or you uncover any old pipework, be careful it could be asbestos
Flues that may penetrate through your roof cavity to vent may also be containing asbestos
ASBESTOS – INTERIOR LOCATIONS
Wall lining sheets
Ceiling linings
Behind tiles in kitchens and bathrooms or any area subject to wet or heat
Around and behind fireplaces, heaters, and stoves
In the vinyl flooring including in the tiles and in the glue used to adhere them
As sheet material on the floor of bathrooms or kitchens
In lagging around pipework in the roof space and under the floor
In insulation material as found in the Mr. Fluffy homes of the ACT and NSW
In carpet underlay that looks like hessian bags
As a sprayed form of fire-retarding material – limpet asbestos – you may find this in hotels and apartments
In Fire Doors used in hotels and apartments
If you are concerned about Asbestos locations around the home contact us on 131 546 we can either do a formal inspection or just give you some advice over the phone depending on your situation.
"You need to consider the age of the building, its uses and visually inspect to identify all the suspected locations of Asbestos-containing building materials." – Suzanne Commerford, Jim's Building Inspections
Once you have done that its advisable to have an Asbestos Test by someone like Jim's Building Inspections.  This will confirm the presence (or absence of Asbestos) and its condition.  From here Jim's Asbestos Removal and Jim's hazardous Materials Removals can supply you with an estimate for the cost of Asbestos Removal.
Jim's Asbestos Removal will then safely remove the Asbestos whether it's on the property interior or exterior.  We usually remove asbestos because people are starting a renovation or extension and we work extensively with demolition companies to remove asbestos before the demolition commences.
For Jim's Building Inspections, find out more state-specific information here: Victoria, New South Wales, Queensland, South Australia, Tasmania, and Western Australia.
For Jim's Hazardous Materials Removals, find out more state-specific information here: Victoria, New South Wales, Queensland, South Australia, and Western Australia.
For a quote on Asbestos Removal by Jim's call 131 546.