Asbestos Awareness Month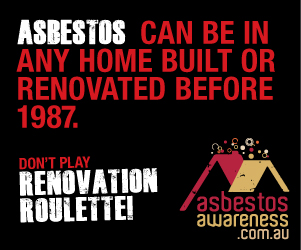 Asbestos Awareness Month
November is Asbestos Awareness month in Australia. Other divisions of Jim's Group like Jim's Building Inspections have long been supporters and promoters of the month which is designed to encourage Australian home owners and renovators to be aware of the risks of Asbestos around the home. Asbestos Awareness Month is auspiced by Asbestos Awareness Australia (Asbestos Awareness Education Committee), who have received some funding from and is managed by
WorkCover NSW
the ACTU
James Hardie
Asbestos Diseases Research Institute
The Asbestos Education Committee has a focus on home renovators and tradesman by:
Alerting those people to the dangers of asbestos;
Alerting those people as to what products may contain asbestos and where those products may be found in existing household or other environment; and
Advising those people as to the steps that ought be taken by people planning home renovations or who otherwise identify asbestos products in their home or other.
"Many wrongly believe that ONLY fibro homes contain asbestos. Asbestos products can most likely be found in ANY Australian home built or renovated before 1987 even brick, weatherboard, fibro and clad homes." – Asbestos Education Committee
Asbestos Awareness Month runs throughout November each year and will continue to be supported by both Jim's Building Inspectors – who inspect and test Asbestos and Jim's Asbestos Removal who then swing into action and remove or make safe the Asbestos that's found.